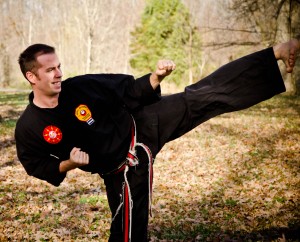 Larry Kooyman Jr.
Family First Martial Arts Training CentersFranklin, TN
Rank: 6th Degree Black Belt Goju-Shorei Karate
4th Degree Goju-Shorei Weapons
All Karate testing products and testing will go through Master Kooyman
Profile Overview:
Larry Kooyman, a veteran student of the martial arts, started training in 1984 under the instruction of his father Robert Beck in Tae Kwon Do.  Larry spent the better part of his childhood training and following his dream of attaining the Black Belt.  In 1992, Larry joined Michael's School of Self Defense and broadened his martial arts knowledge by learning Japanese Kenpo, Jiu Jitsu and Judo.  Larry suffered a severe knee injury in 1995 and doctors suggested that he forgo the martial arts with little to no optimism of him being able to walk properly. He declined to listen to the doctors and after 3 surgeries, went on to achieve his Shodan under his Instructor Bryan States.
After achieving his black belt, Larry found his passion and what would eventually become his career, teaching the martial arts.  Then in 2000, Larry formed a partnership with his instructor Bryan States and fellow student Bill Pinter and began to operate and grow Thompson's Academy of Martial Arts in Streetsboro OH.  He went on to grow Thompson's Academy to one of the most successful school in Northern Ohio.
After spending nearly 8 years as a first degree, Larry sought out affiliation with an Association that would allow growth and ranking in the arts.  This pursuit led him to the Goju-Shorei Systems and to Dave McNeill, Soke.   Soke McNeill soon came to Larry's School in Streetsboro, OH for a seminar and tested Larry and promoted him to 3rd Dan in the Goju-Shorei Karate System May 14 2005.  Larry continued to expand his learning in the Goju-Shorei Systems by learning the Weapons System.
In 2006, with the recommendation of Soke, McNeill, Larry took on the challenge of the Ultimate Black Belt Test.(https://tomcallos.com/ubbt-team-2018) During this year long adventure Larry had the opportunity to work with some of the best martial artists in the country including Tom Callos, Bill Kipp, Chris Natzke, Peter Johnson, Dave McNeill, Skip Ewing and Academy Award Winning Film Maker, Nancy Walzog.  Inspired by the UBBT Larry moved to Nashville TN to open another school and ended up getting married to Dani Carroll (fellow UBBT member) www.danicarroll.com. .
Dani and Larry soon moved to Reno, NV to open up Evolution Martial Arts Academy (www.evomaa.com) with famed UBBT teammate Ray Neill, and have continued to further their Goju-Shorei knowledge having both received their Goju-Shorei Black Belt in the Weapons System.  Dani and Larry are both certified FAST (Fear Adrenaline Stress Training) and FAST CATS (Child Assertiveness Training) instructors as well as Larry being a certified Bullet Man.
In May, 2010, Larry was promoted to 5th degree black belt in Goju-Shorei Karate and appointed Director of Goju-Shorei Karate.  Along with the honor of directing and growing the Goju-Shorei Karate system, Larry was bestowed the very belt Soke Dave McNeill wore and had passed down to Master Ross Briggs.  Master Briggs, a dear friend of Larry's, passed on this same belt, along with the recommendation of becoming the new Director of Goju-Shorei Karate.
Larry and his lovely wife Dani now reside in middle Tennessee with their two children. They are the owners and operators of Family First Martial Arts Training Centers in both Spring Hill, TN  and Franklin, TN.  (www.familyfirstma.com and www.familyfirstspringhill.com)
Experience: 
1984-Present Martial Arts Student
1996-2006 Thompsons Academy of Martial Arts Owner / Head Instructor,  Streetsboro, OH Sold Company to Move to Nashville, TN
2006-2007 Elite Martial Arts Head instructor / Program Director, Nashville, TN Relocating to Reno, NV due to Contract expiring
2007-2010 Evolution Martial Arts Academy Partner/ Head Instructor,  Sparks, NV Business Expansion
2010 – Present Family First Martial Arts Owner / Chief Instructor, Franklin, TN Director of Goju-Shorei Karate
Accomplishments:
•34 Years of Martial Arts Experience
•23 Years of Teaching Experience
•Graduate of "The Ultimate Black Belt Test Team 4" www.ultimateblackbelttest.com
•6th degree black belt Goju-Shorei Karate
•1st degree black belt in Japanese Kempo
•4th degree black belt in Goju-Shorei Weapons
•FAST Certified
•FAST CATS Certified
•Certified Bullet Man