About Soke, Dave McNeill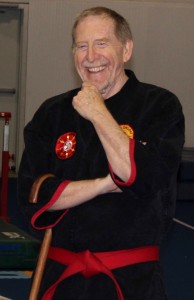 9th degree black belt, Soke Dave McNeill, started his study of Goju-Shorei Karate in 1971 under the tutelage of
Hanshi Alexander Archie.
In 2005 Hanshi Archie retired and appointed Soke McNeill as the head of Goju-Shorei.

As a youngster, Soke boxed in the Jr. Golden Gloves program. Currently, or in the past, he also trained with Remy Presas in Modern Arnis, Byong Yu in Taekwondo, Gary Friederich in Shotokan, Mark Lord in Tai Chi, Donnie Williams and Steve Muhammad in BKF Kenpo, Prof. Ken Eddy in Seifukujutsu and George Fujii in Machado Brazilian Jujitsu.

In the 70s, 80s and 90s Soke McNeill competed successfully in martial arts tournaments throughout California, Idaho, Oregon and Nevada.
In the mid-80s it was decided that the Goju-Shorei system needed a fresh approach in the teaching of weapons.  It was noted that all of the so-called traditional weapons were illegal in most, if not all, of the States.  The decision was made to teach only weapons that were legal and/or practical.  With that in mind, Soke McNeill was assigned the task of developing a structured, systematized weapons system that could be utilized by the general public, Goju-Shorei students, as well as other martial arts styles.
After extensive research McNeill decided that the cane, knife and fan would best meet the demands of legality and practicality.  The cane is the core weapon since it is such a practical tool, and legal anywhere in the world.  The knife blade would be no longer than 3", which is legal in all States.  The fan teaches the use of a short stick.
The next step was to create the ranking standards.  This had to include katas, techniques, exercises and a method of displaying the rank of a separate, but equal, system. An octagonal patch designates the rank of the Weapons System, with colored chevrons sewn to the outside of the patch.  The colors correspond to the Karate ranking colors of Yellow, Orange, Purple, Green, three Browns and Black. Requirements were also developed for eight Black ranks in the System.

In 1994 Goju-Shorei formally adopted the Cane, Knife and Fan as its official weapons for the Weapons System, and Soke McNeill was designated head of the Goju-Shorei Weapons System.
Soke McNeill started Cane Masters with his student Mark Shuey, and was the original president of that company. The partnership lasted for 2 years.
He has been inducted into the World Martial Arts Hall of Fame, The Hawaiian Martial Arts Hall of Fame, World Sokeship Council Hall of Fame and the United States Martial Arts of Fame. McNeill has also have been featured in Martial Arts Legends magazine and has been published numerous times in Black Belt magazine.
Soke McNeill has been a participant and advisor to the Ultimate Black Belt Test almost since its inception in 2003, and was a longtime member of the American Jujitsu Institute (AJI) which is the oldest martial arts organization in the United States.
He resides in Northern Nevada, just south of Reno.